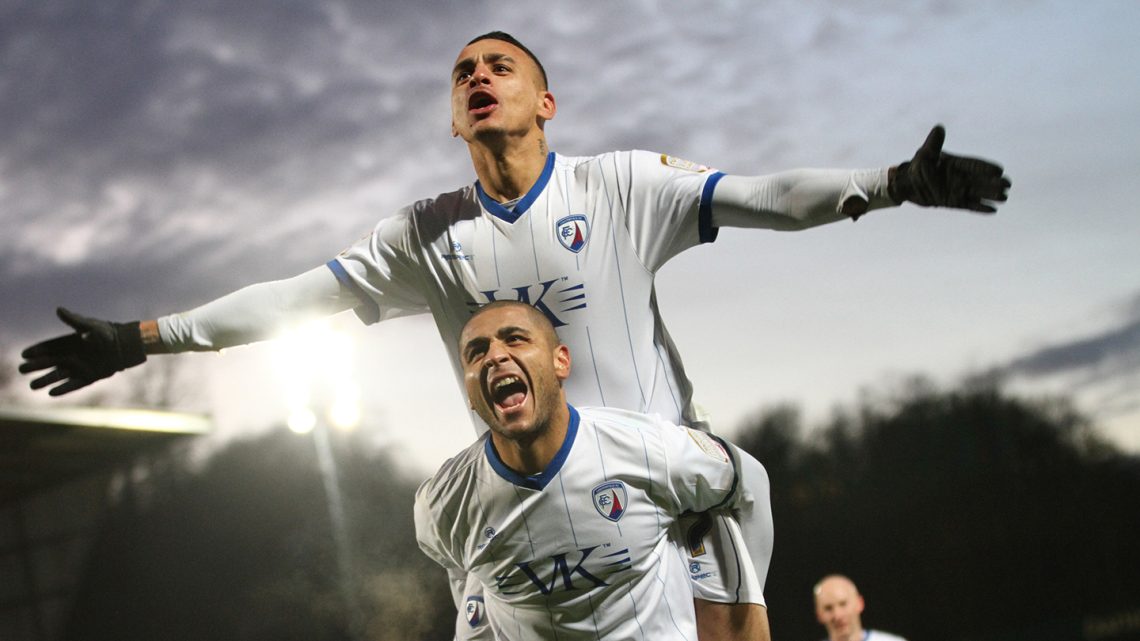 Celebrating 20 Years Part Two
Twenty years is a long time to be doing anything and as you can imagine, in football that then creates some interesting stats. For example, during my time so far as club photographer there have been 22 managers in charge, that includes any caretaker managers and it counts John Sheridan and Paul Cook twice for their separate periods in charge.
Along with being the club's photographer I've also done a fair few other jobs at the club too throughout the years. One that I've been doing for most of the time is the design work of the club and trust and any other creative work that's needed, I was the one that did the media department video work back when that was required when Spireites World was introduced and continued that for a number of years, through that, I was once the match analyst, breaking down video clips for particular instances that the manager wanted to look at, I even ended up in charge of the club shop at Saltergate for a whole month whilst Michelle went off to get married! Quite the variety of work, but all based around the same creative and technology skillset. At one point though, it all seemed a bit much being the photographer, designer, videographer, and match analyst all at the same time, there certainly were lots of late nights!
Now let's take a look at some more images.
11 Experienced players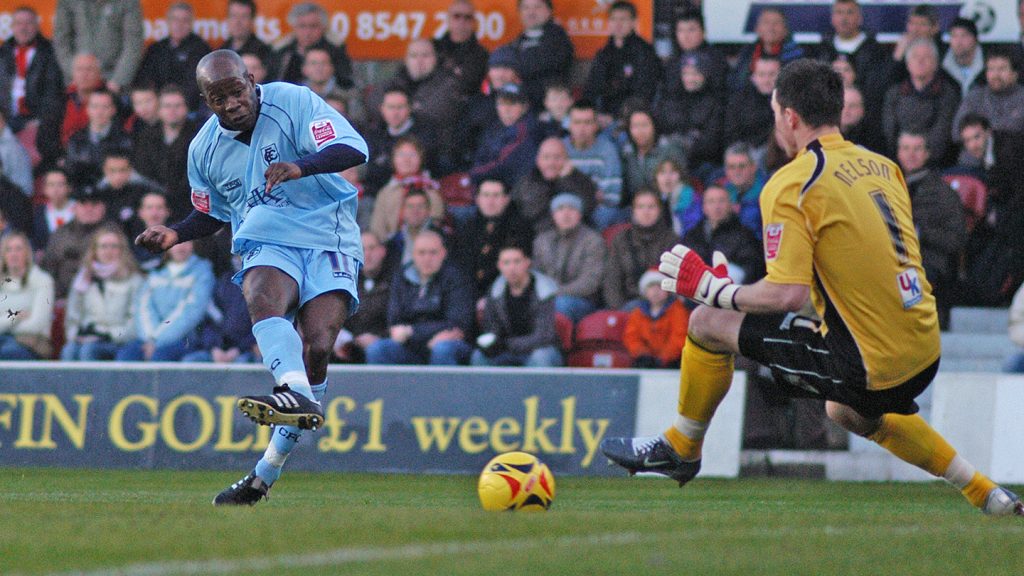 Paul Hall (pictured above), was 32 when he made the move to Chesterfield. That in footballing years is a lot and brings with it a wealth of fantastic playing career history. Paul played for Jamaica at the 1998 World Cup, he featured in a book I had from that time and it was a real privilege to be able to have some conversations along the way about his experiences with him. Not only that, he is just one of those characters that are a joy to have around the club (although you have to keep a close eye Hally, as explained in the next image!). It's one of my favourite things at the club is the chance to listen to players about their experiences, my favourite probably being Jim Brown, I could listen to his tales all day, they are fantastic!
12 There's always one!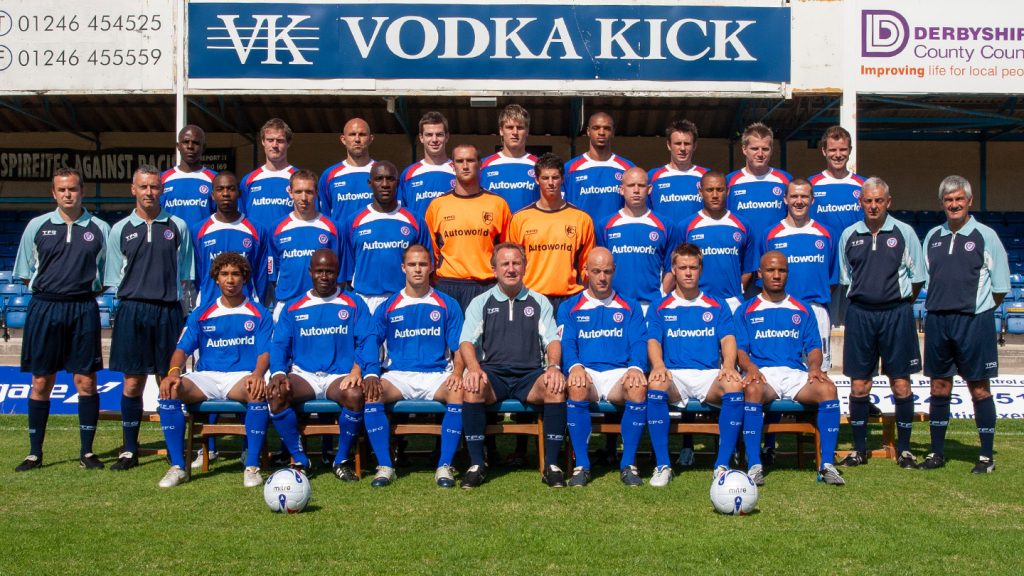 Have you spotted it yet? If not, I'm not going to spoil it. In every team there has been through these past 20 years there is always at least one player you have to keep your eye on when taking photographs. Hally was certainly one, Gary Roberts another (I still keep finding the fake snow he put in my hood on the Christmas hospital visit!), even Jack Lester would cause me a few problems whilst trying to take photographs. It's good to have that sort of humour and fun in the club, and it's actually fun for me to capture as long as I can at least get a well-behaved image as well.
13 THAT goal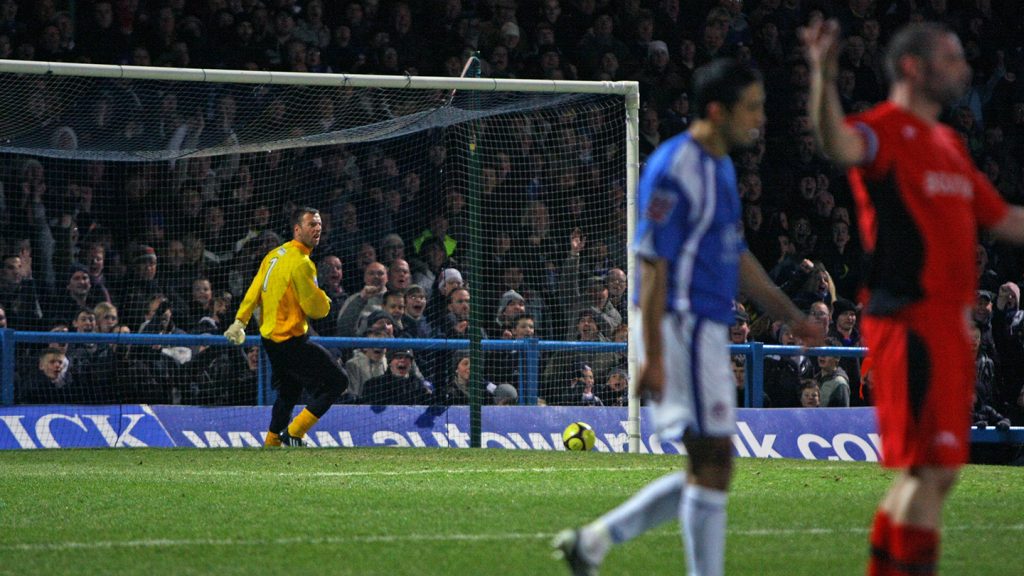 Lots of games stand out usually because they were big occasions like Man City in the cup, visits to Chelsea and Wembley, League-winning games. Then there are occasionally games that stand out for some sort of drama. The Droylsden saga is definitely that! 4 games for one round of the FA Cup, 2 postponements, fog, floodlight failure, illegal players oh, and THAT goal! Jack Lester lobbed the keeper from a throw-in after Droylsden had put the ball out of play. Brilliant stuff. I was just very glad that it didn't happen at the other end of Saltergate because had it. I would have been on my little chair right in the middle of the two dugouts and that wasn't the place to be when Dave Pace and his assistants came charging across to our bench! The trips to Droylsden weren't my favourite, especially the one when someone spat on my kitbag.
14 The old place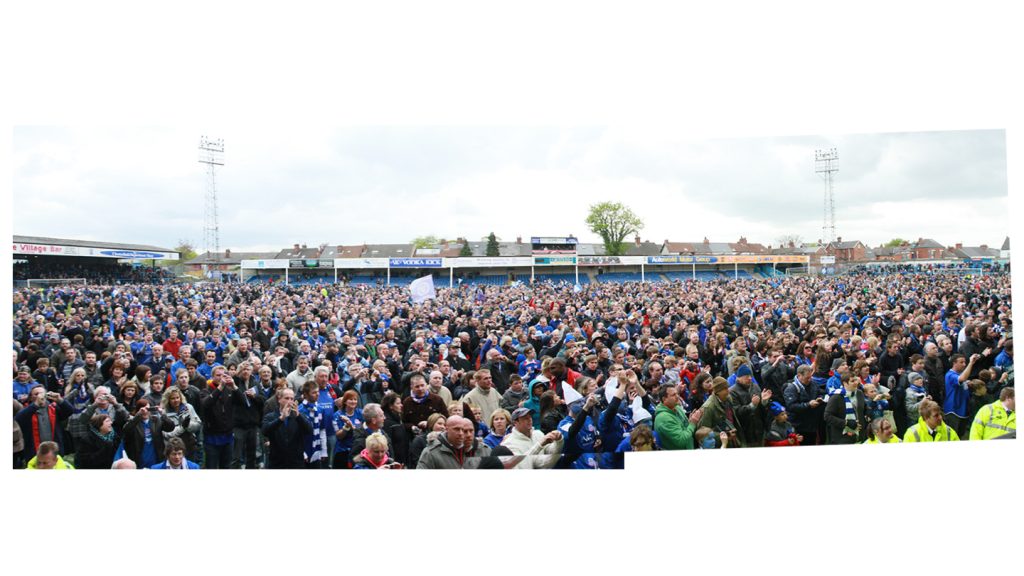 One of the biggest days in the club's history, the end of an era, was the last match at Saltergate. It still gives me goosebumps to look at this image just like it did at the time of taking it. What a day it was, it was also a very long day for me. It started covering the event at the Pomegranate Theatre in town, the parade through town to the ground, the match and then the aftermath on the pitch at the end. One aspect that gets easily forgotten about is that taking the images is only one part of my job, I then have to edit and send the images in various different versions to different places. This period of time, capturing the moving of grounds was a fantastic experience.
15 First promotion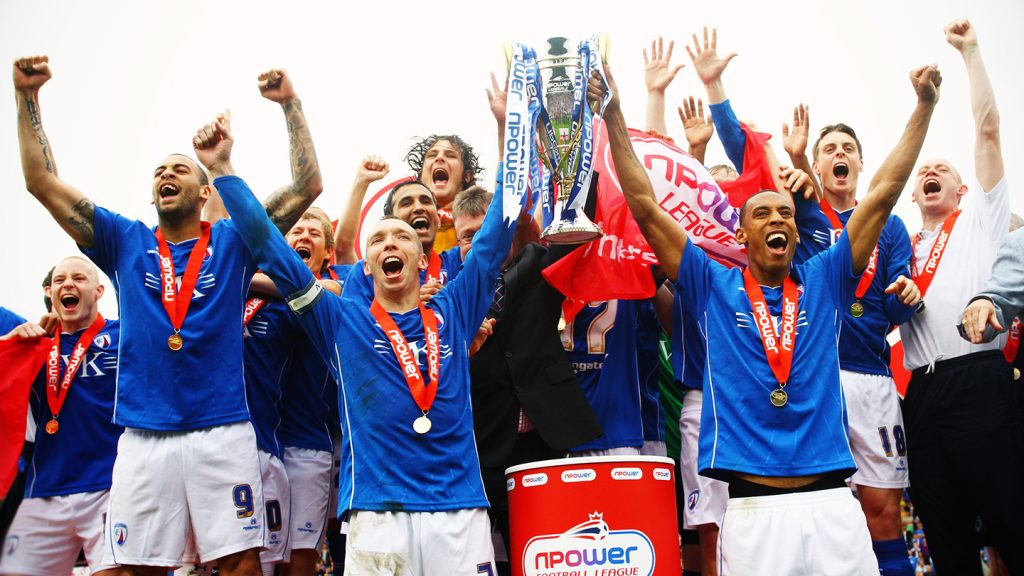 It took 10 seasons to get my first taste of promotion and winning the league. I didn't really know what to expect apart from probable mayhem! I love this image, the story behind how I took it still makes me laugh. The area for photographers to take the cup lift was roped out and there were a lot of national press and agency photographers there scrambling against each other for their positions. I somehow, ended up in a very unusual spot when the cup lift took place, I was lying awkwardly behind the a-frame just in front of the podium beside the bottles of celebration spraying champagne. The cup lift happened rather quickly and I grabbed my shots and then just managed to escape with my life before the entire squad ran to celebrate with the champagne.
16 Great images go to waste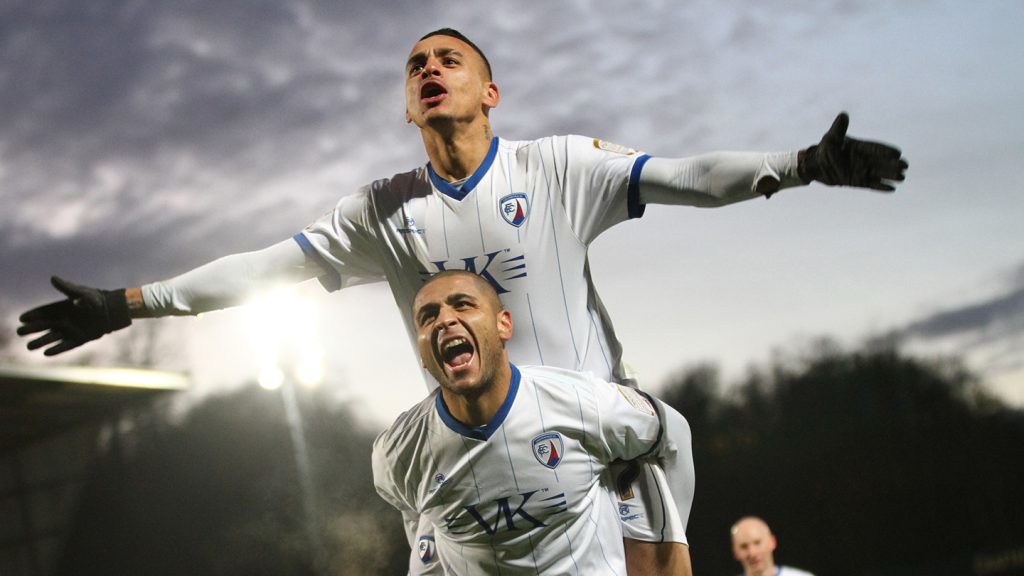 This is one of those celebration images that just sticks in my mind. Dean Morgan and Leon Clarke celebrate Morgs second goal of the game that put the Spireites ahead 2-1. However, we went on to concede two more goals and lost the game, and as that 90th minute Wycombe winner went in I knew that this great celebration image I'd managed to capture wasn't going to be used in the same way after the match. This kind of image would lead the line on all our post-match content, but not when we haven't won and especially after gutting 90th-minute loss. If I remember rightly it was also Leon Clarke's last match for Chesterfield that day, and I'll never forget being sat at the front of the team bus as he came on and shook everyone's hand, including mine before getting off and parting ways.
17 Best bus ride ever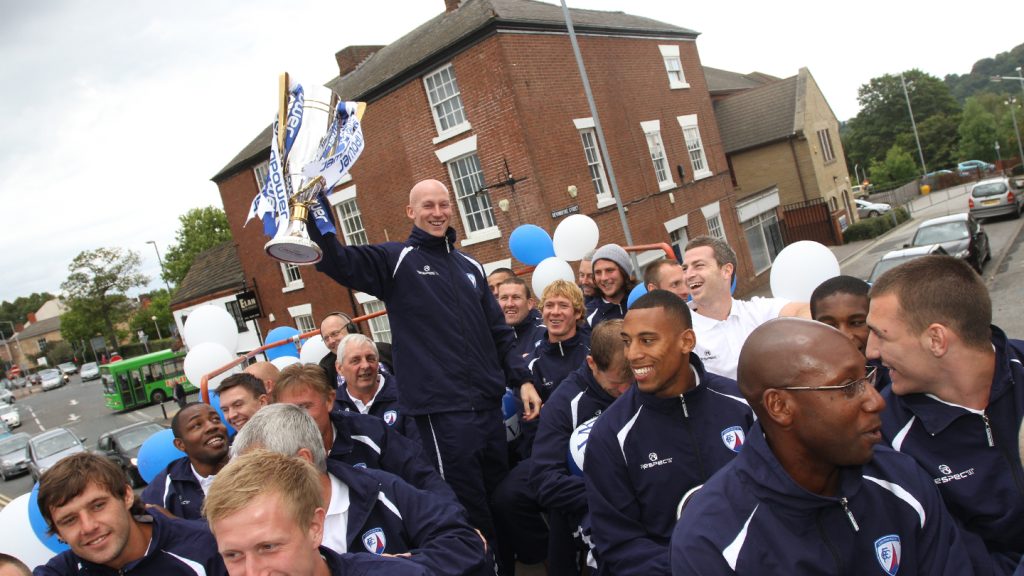 For some reason, that escapes my memory right now, the civic reception held at the Town Hall was delayed until the July after the league win. Again, another new experience for me, and finding myself on the top deck of the open-top bus with the team was quite the experience! I think I was the only one that didn't really mind that it had been delayed as the day they did was just happened to be my birthday. Earlier in the afternoon, I had been photographing at the ground as Nick Knowles and his crew was filming there for DIY SOS. All in all, it made for a pretty great birthday, even if I was working hard.
18 Wembley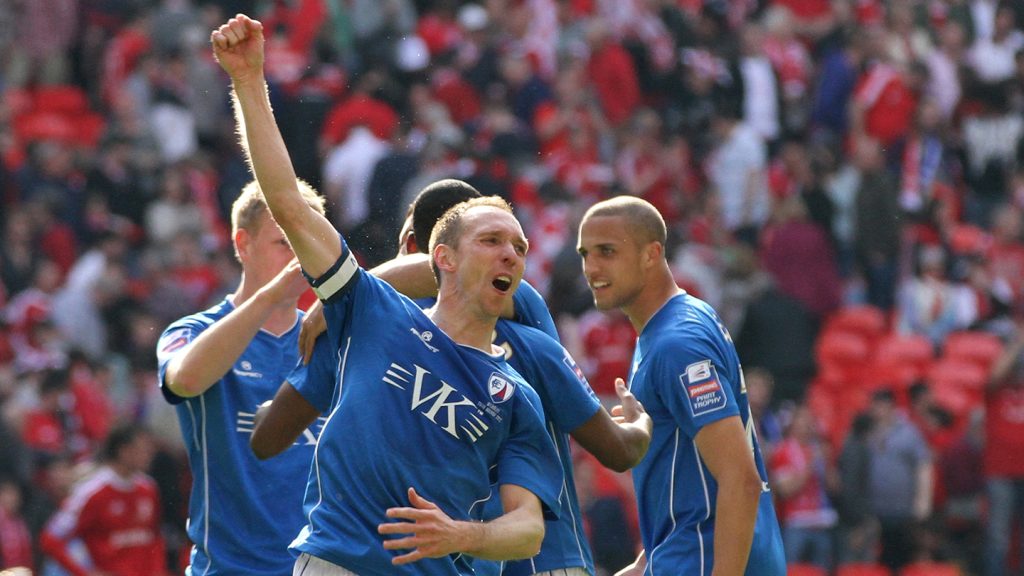 What a day! I really didn't know what to expect from that first visit to Wembley. And many things stick in my mind from it. Although I'm a part of our media team at the club, life as a photographer is definitely not the same as those that sit in the press box. At Wembley, we have a separate photographers area underneath the stand, in there we were provided with a paper bag with an apple, a mars bar, and a sandwich, whilst it turns out the other press guys were all dining away with three courses! Mind you, I wouldn't swap places. I had been given a different colour bib to wear than the other photographers, the show that I was a club representative and therefore I was allowed to go a few extra places than the others. The two main ones were the middle of the pitch for the captain's image, which I wasn't expecting to have to do and filled me with dread, and then the changing room after the cup lift if we had won. Both were crazy experiences! The downside to being a fan of the team is that on occasions like this where you'd be celebrating the successes, I'm the one that is still working, either taking images of others celebrating or then dealing with the aftermath of taking so many images! 5,500 images were taken that day, and it took me a week of long hours sat editing to get through it all.
19 Luck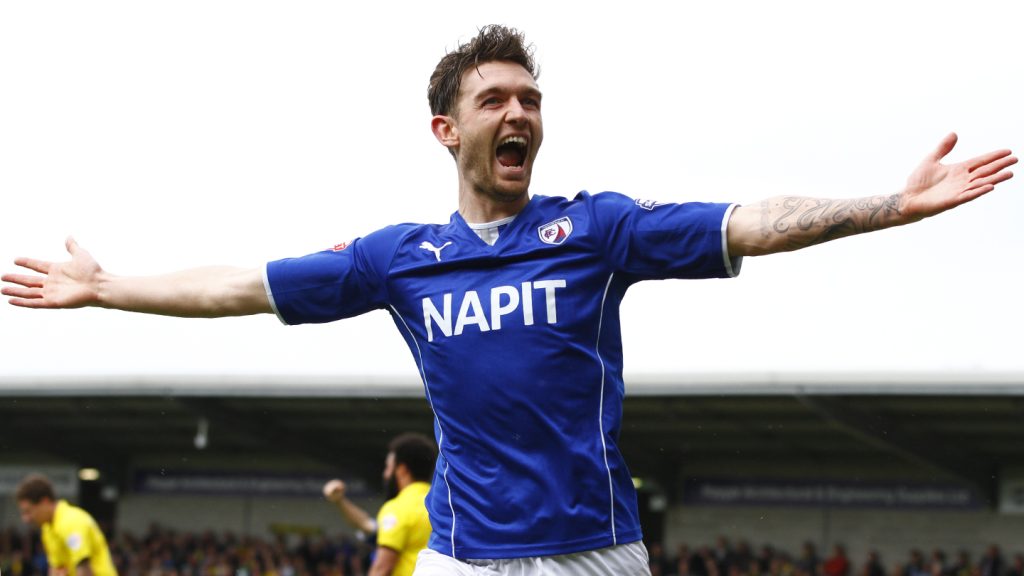 Promotion sealed, thanks to a Jay O'Shea goal, a set of celebration images to live on in the history books forever. And what do images like this come down to? Luck, pure luck. Jay could quite easily have run the other way celebrating that goal and this iconic image wouldn't have been the same. It takes, skill, a creative eye, and knowledge to capture sports images, but if the luck of the green isn't with you at that particular moment, then none of that matters.
20 Never quit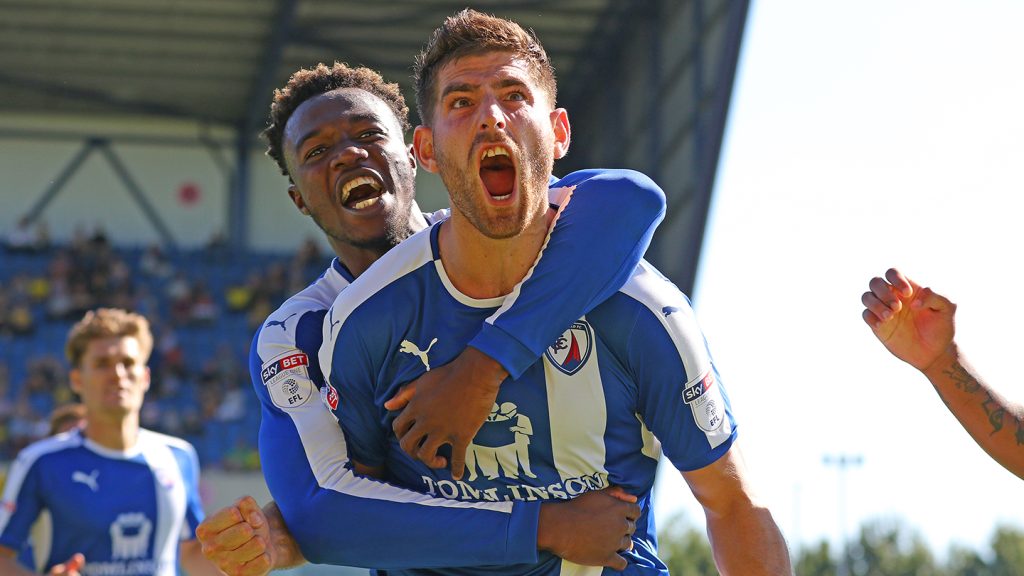 Just moments before I took this image I couldn't see straight and was very close to passing out. I didn't feel at all well during the game and thought it was probably the heat as it was the opening day of the season. I thankfully held in there and just I was seeing slightly better, Ched Evans pops up and scores and then precedes to celebrate right above my position in front of the Spireites section. I still don't know how I managed to get this shot. Turned out that I ended up in the back of an ambulance for an hour and a half in the Sainsburys car park not too far from the ground whilst they tried to settle me down from the food poisoning I was experiencing! Bleurgh. A horrible experience but proud that I didn't quit and I still did my job. I've worked through with a lot of different ailments and whatnot through the years, and have done many a game on my crutches, not easy to do but it's not stopped me yet!
I hope that you've enjoyed my little ramblings about some of my memorable images, I hope to keep celebrating throughout the year and there might be a few things in the planning to help with that.
Thanks for all the kind messages the past couple of days, I really appreciate it and glad that my work is enjoyed by so many.