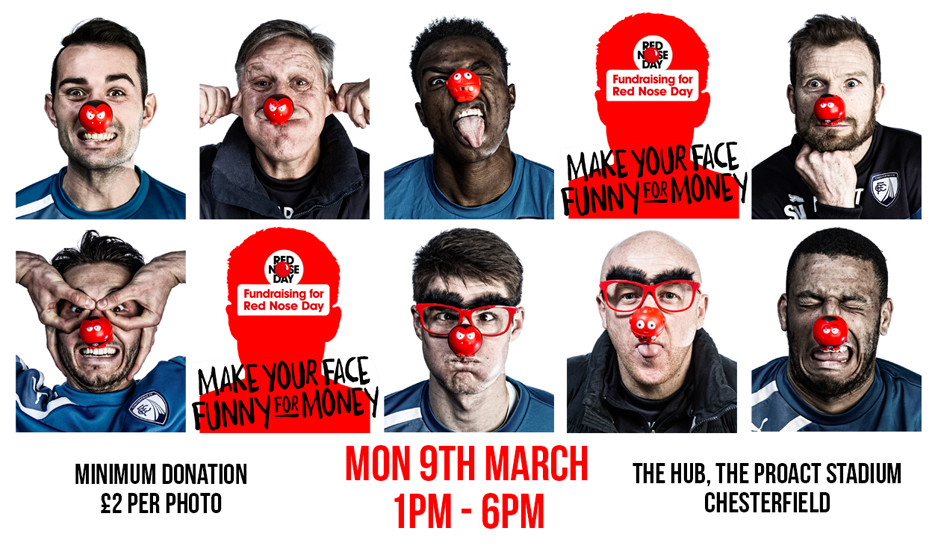 Make Your Face Funny For Money Photoshoot
Come along to the HUB and put on your funniest face for Comic Relief 2015
Here at TJP we are gearing up for our funniest photoshoot yet, all in aid of Comic Relief.  In association with Chesterfield FC and Chesterfield FC Community Trust, we want you to join the players and staff in making your face funny for money!
For a minimum £2 donation, have your photo taken by Tina in our pop-up studio at Chesterfield FC Community Trust's the HUB, at the Proact Stadium on Monday 9th March, 1pm – 6pm.  Your photo will then be emailed to you for you to use as you'd like, perhaps as a new profile picture or why not use it as a get well soon card to make someone smile on the road to recovery!
All images taken will be entered into a funniest face competition where the winner will receive a print of the promotional poster featuring their winning image among a selection of Chesterfield FC players and their attempts.
Everyone wishing to take part must complete an entry form (download one here or collect one from the HUB), and if you are aged under 18 then you will need to have this entry form signed by your parent/guardian.  So if you're coming along with friends after school, please make sure you have this completed before you make the trip as we will not be able to take your photo without it.
By entering the photoshoot, you agree to the usage of your image by Tina Jenner Photography, Chesterfield FC and Chesterfield FC Community Trust in relation to the fundraising project (for example, Inspire Programme, photo display in the HUB, social media & websites etc).
WHEN: Monday 9th March  1pm – 6pm
WHERE:  the HUB, The Proact Stadium, Chesterfield, Derbyshire, S41 8NZ
To find out more about the Chesterfield FC Community Trust please visit their website at: www.spireitestrust.org.uk
And for more information on Comic Relief 2015 check out their website: www.comicrelief.com