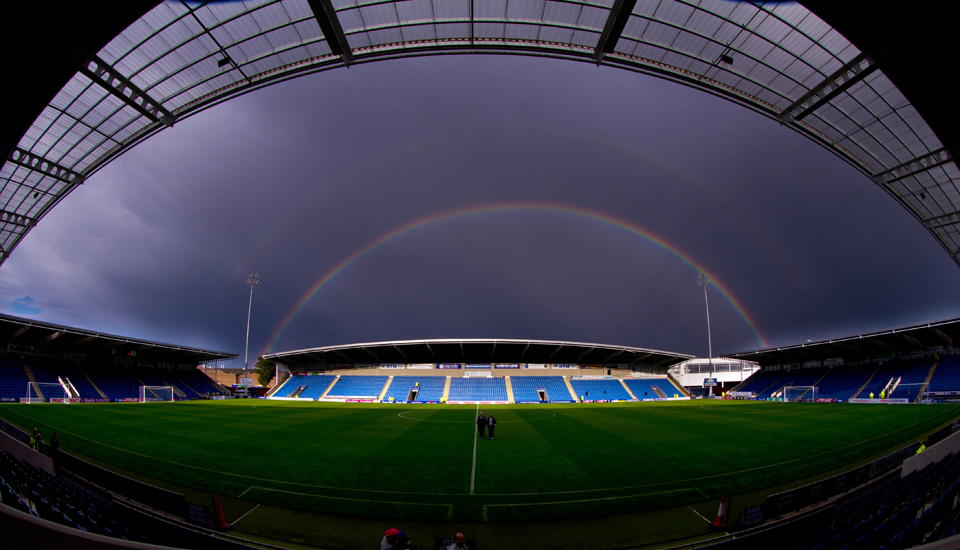 Well the new football season is already in progress and it's been a somewhat unusual start. In the first 5 games we have witnessed some kind of event that rarely happens, somethings that I, in ten complete seasons photographing at have never experienced!
Game 1: Chesterfield v Derby County
During the pre-match build up to this pre-season friendly the refs emerged from the tunnel to the centre of the pitch due to a false fire alarm sounding whilst the annoucement was made that kick-off was to be delayed 15mins to allow queuing fans enough time to get a ticket and enter the ground.
Game 2: Chesterfield v Tranmere Rovers
After a goaless 90 minutes the Spireites go a goal down in extra-time of this Capital One Cup first round match. Until up pops Jack Lester to level the playing field. The game was then stopped due to Tranmere 'keeper Fon Williams noticing a hole in the top of his net caused by his team-mates unsuccessful attempts to clear the shot from the goal. Up step groundsman Ant with his trusty stepladders to fix the situation.
;
;
It will probably stand in history though as an urban myth that Spireites witnessed legend Jack Lester break the net with his equalising goal that night.
;
Game 3: Wimbledon v Chesterfield
Chesterfield's first league game of the season, away at Wimbledon. Played on one of the hottest days of the year the players were given to relief to the searing heat when during the second half one of the pitch sprinklers popped up spraying.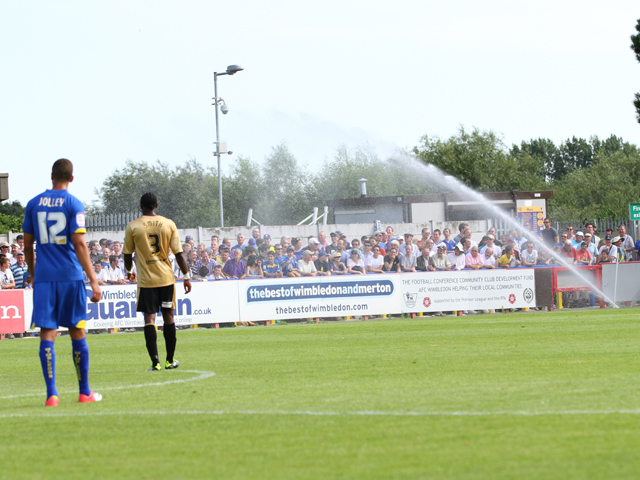 Game 4: Chesterfield v Rochdale
After a late summer downpour the newly re-named Proact Stadium witnessed a perfect double rainbow over the Community East Stand.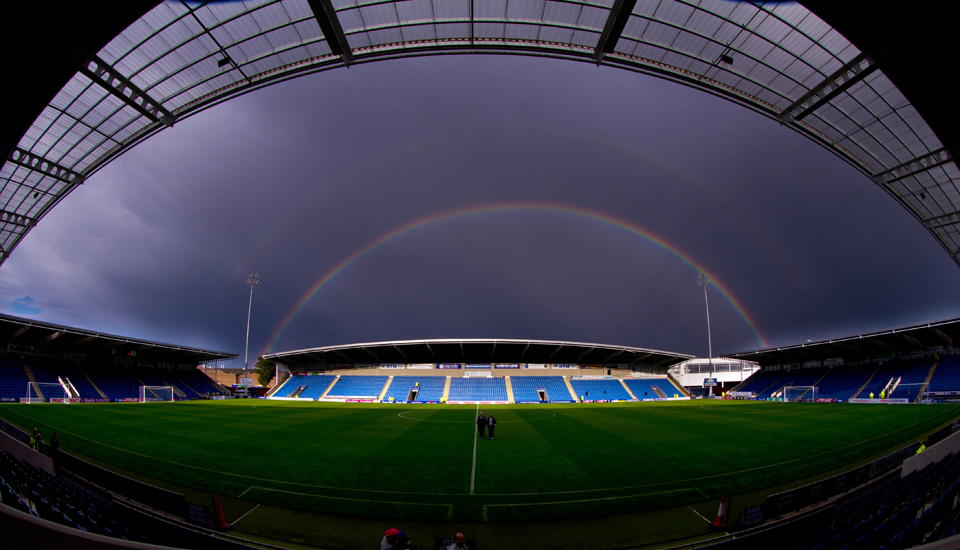 Game 5: Chesterfield v Rotherham Utd
In the final game of this series of events saw the Spireites take on local rivals Rotherham at The Proact Stadium. Now, I've sat pitchside during some varying degrees of weather but never before through a thunderstorm.
So, after five games I'm looking forward to seeing what the sixth game brings to this list of unusual events.